By the way:
Want to develop plug-ins? Download docs and an example here.
---
Want to check out some of the existing plug-ins?
3DScape /TimeZone / Flowers / From8-80 / 3DS import / Students
---
1. 3DScape.

Short Introduction:
"A logical addition to the plugin From8-80 was to have some kind of method to make more complex objects. One of the techniques in 3D world is the so called bump map, that add per point of the object an offset, that is taken out of a height map. 3D-Scape does just that, the height map is made out of an ordinary BMP bit map file. The heights are calculated from the luminance of the BMP colors, the brighter the color, the higher the map. It should be noted that to get really good results increase the number of divisions the object is made of (menu: FINER), this takes alot of CPU and OpenGL power, but if you have it, Enjoy. "

Yours, Bones.

Download 32-bit version (118 KB)
Download 64-bit version (136 KB)
ps. Look at the bottom of the screenshot-page, there's a fine example of how this plugin can replace and liven up your floor also.

---
2. Timezone.

Short Introduction:
"Wouldn't you like to fly your own space vehicle and get a view of the Earth as it 's hanging in space.
See how the Moon is rotating around the Earth, the Sun lights-up the Earth, see where in the world the sun comes up, and where it goes down ???

!! IT'S NOW POSSIBLE !!
with this completly new AND FREE plugin from the amazing pluginer
BoneS "

Download(347 KB)
ps. Bones has put the moon a little bit closer to earth as opposed to reality, for esthetic reasons (visibility!).

---
As flowers are one of the main export-products of the Netherlands we did not want to stay behind, so here is a plug-in that will enable you to put some flowers on/in your desktop. You can give them water also and for the impatient ones, you can accelerate the growth or death if you want.
Keep in mind that this is a fantasy-flower , so if you want some real flowers you should buy the real stuff in a store, give them some real water or you can also just give them to some real friends. Here are some pictures of how the flower behaves when you take care of it allright or not:
As you can see, the plug-in creates exactly one flower in a square bed of grass, if you want more flowers, just start the plug-in as many times as you like. The plug-in is called "flowers.dll" , you start it as any other plug-in. To learn how to give it water look underneath the bed of grass, you will find some guidelines of how to take care of the flower there.
Download 32-bit version (224 KB)
Download 64-bit version (217 KB)

---
This is the very first plug-in of our much valued employee Jean Custers . Here it is in his own words:
" The ones that didn't grow up with Computers or Nintendo built there own world with wooden building blocks or plastic Lego blocks. Now every child and grownup try's to get that same constructive feeling by means of computing till your eyes fall off. Since Joost introduced his 3Dtop with Plugin capabilities, I saw this as a great opportunity to try and get that old building feeling back into the lives of everyone in the range of 8 to 80 years."
Here are some examples of what you can create with it.

Download the plugin(with manual) here (76k) and some examples can be found in this zip-file (41k).
Jean can be contacted at technica@wirehub.nl
To start the plug-in twice, copy and rename it to , for example, "from8-81.dll" and start that one. To start it a third time, copy and rename it to, for example, "from8-82.dll" and start that one, etc, etc..

---
5. The first 3D-model-import-plug-in.


This plug-in will import models that are in the format of 3D Studio with extension .3ds . Models can be found on lots of places on the web but a good place to start is www.3dcafe.com where lots of textures can be found also by the way.
This plug-in uses a program called view3ds written by David Farrell which converts a 3ds-model-file into a format (developed by him) with extension .bmf that this plug-in can read in a wimp. We changed view3ds so that it can also read animated models and display it accordingly, for this we added the extension .abmf (animated bmf). The plug-in can also be started as many times as you like with each time specifying another model and can then all be reloaded automatically upon restart of 3DTop. Here is an example of how you can make your desktop look even more customized:
Where is "My Computer" ? Needs a cocktail-glass on top of it, don't you think.
Download the 32-bit version here (290K which contains a sample animated model of a carosel also).
Download the 64-bit version here (300K which contains a sample animated model of a carosel also).

The plug-in itself is called "import3d.dll" .
To use it:
Make a directory where you keep your 3dmodels (preferably a sub-directory of your 3dtop-directory) and copy all files of this zip to this directory.
When you select a 3ds-model, view3ds.exe will be started and used to convert the model into the bmf or animated bmf (.abmf)-format which will then be used by the plug-in to display the model.
If you select an already converted model with the .bmf or .abmf extension it will be loaded immediately without conversion.
Other things you should know about: - You can resize the model by pressing the SHIFT-key and then left-clicking and dragging the model. - Right-click the model while holding down the "Control"-key of your keyboard to show the menu with extra options. These should be self-explanatory.
That's it, for now.
Have fun.

---
6. Look what these talented students Sean Davies and Ben made.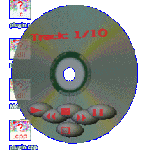 Downloads:
The possibilities are endless, as you can see. I believe Sean is now working at Sumo Digital as a game-developer.
---
Copyright 1999

3DTop

The Official Home Page